Get ready to relive your childhood, because Disney decided to bless us and put every episode of "Lizzie McGuire" on the internet for free. As someone who still owns and rocks "Lizzie McGuire" socks, this is better than Christmas. We can now look back and embrace every crimped hairstyle, butterfly clip, and awkward moment as Lizzie learns valuable life lessons.
I'm unsure if Disney is trying to torture us or not, but for some reason, there isn't a view all option available. This leaves us sifting through the recommended videos. How could Disney possibly know what we want to watch? Nonsense.
I've got you covered, though. I sorted through all the best episodes. You're welcome.
Season 1, Episode 1: Rumors
This is the episode where Kate practically invented shade. Who could forget that cheer? "Two, four, six, eight, who's the girl we love to hate? Liiiiiizzie biiiiiiig looooser." Icy.
This is arguably the best episode of the entire series. The suspense of what to wear on picture day really weighs on Lizzie. First, she considers dressing like Britney Spears in this iconic moment.
Then, in a horrible twist of fate, she's forced to wear this hideous unicorn sweater.
Just when you think it can't get worse, Kate and Miranda show up in the exact same red top, zebra miniskirt combination.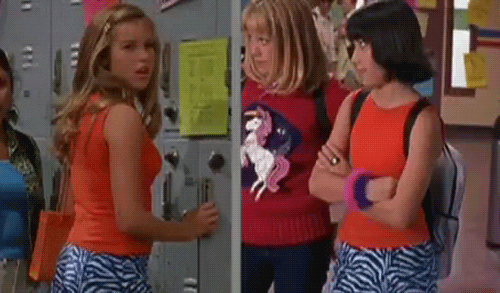 Aaron Carter comes to town to shoot his new music video, and Lizzie and Miranda are determined to sneak in. Lizzie and Aaron share a smooch, and I'm pretty sure we were all jealous.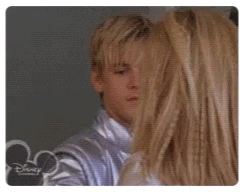 Here, Lizzie falls into a rebellious stage and goes totally goth-chic, leaving every middle school girl wanting a nose ring.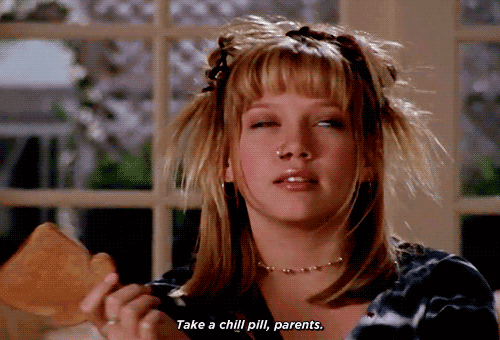 The four words that stuck with our entire generation: I. Want. A. Bra.
Season 2, Episode 1: First Kiss
Lizzie gets her first kiss from the swoon-worthy paper boy. He turns out to be a total butthead and leaves her high and dry to cry on Gordo's ever-present shoulder.
Lizzie is determined to win "best dressed," but her mom will only take her bargain shopping, even though she must have the high-end jeans. Ugh!
Lizzie catches the attention of Frankie Muniz. Yet again, she steals a smooch. What a player. You can't have Aaron and Frankie, Lizzie.
Of course, I also have to mention the "The Lizzie McGuire Movie." After you finish binge watching the show, you can watch it for free here. Make Lizzie proud..