It's no secret that Ryan Gosling and Rachel McAdams were undoubtedly the cutest couple of the mid-2000s. They were perfect together. Their on-set chemistry in "The Notebook" was something that horny singles everywhere still have yet to recover from. But like all great couples who film together–Brad Pitt and Angelina Jolie, Liam Hemsworth and Miley Cyrus, Andrew Garfield and Emma Stone–Ryan once attempted to kick Rachel off-set in a fit of rage and exhaustion. Wait, what? That doesn't sound right.
Nick Cassavetes, director of "The Notebook," recently decided to take a giant shit on my life and reveal to everyone that the two were not always so friendly on set. He released the following story:
"Maybe I'm not supposed to tell this story, but they were really not getting along one day on set. Really not. And Ryan came to me, and there's 150 people standing in this big scene, and he says, "Nick come here." And he's doing a scene with Rachel and he says, "Would you take her out of here and bring in another actress to read off camera with me?" I said, "What?" He says, "I can't. I can't do it with her. I'm just not getting anything from this."

"We went into a room with a producer; they started screaming and yelling at each other. I walked out. At that point I was smoking cigarettes. I smoked a cigarette and everybody came out like, "All right let's do this." And it got better after that, you know? They had it out… I think Ryan respected her for standing up for her character and Rachel was happy to get that out in the open. The rest of the film wasn't smooth sailing, but it was smoother sailing."
From the story, I gather that the two just were just having an off day. I guess I shouldn't really freak out. Couples fight all the time; it's totally normal. One time I drank too much Fireball and asked a boyfriend if he was gay. He didn't talk to me for a week. What can ya do?
I like to imagine that after the fight, they made up in dramatic fashion and had fantastic makeup sex under a piano or something. I'm going to ignore the fact that they eventually broke up in 2007, which is another tragedy I can't get over. Unlike my potentially gay ex and me, Ryan and Rachel belong together, and I fully believe that they'll get back together someday. It's not going to be easy. It's going to be really hard. They're going to have to work at it every day, but he'll want to do that because he wants her. He wants all of her, forever, every day. Ryan and Rachel…every day.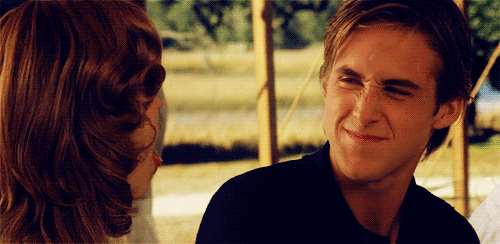 [via FILMDRUNK]

Image via VH1