It starts out like any chapter meeting does:

Until…they announce that you have an upcoming mixer:

With your ex's fraternity:

It's cool. You'll just put forth your best effort to make sure he regrets the day you broke up:

You walk into the pregame like:

And for the next hour and a half, you continue to pregame like: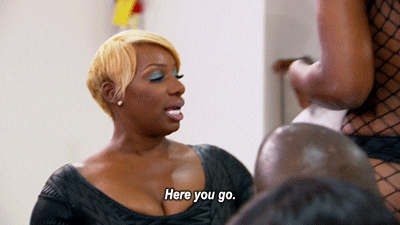 Then you take a few pictures:

And it's time to leave when:

Once you get to the venue, you're like:

And you start dancing:

And dancing:

And dancing….

Until there's about an hour left in the night, and you're just like:

And that's when you see him:

And as if on cue….

Your girls try to help:

But when you go to tell him off…

This continues until someone taps you on your shoulder to tell you to cool it, and the both of you are all

Until you realize that person was standards when they sternly…

And you're just like:

Your ex calls a pledge ride for the two of you, and the whole way home, you're all:

And when you finally get home, what do you find???

But you feel better when you raid his kitchen:

You wake up the next day, and check your inbox, and of course, there's an email from standards. An amateur might be feeling kind of…

But you're just all…

After a group meeting with your main girls, you figure out what you did, come up with an alibi and you're all:

So when you walk in, your plan of action is just:

They seem pretty mad, so you just whip out the big guns:

In truth though: